PRODUCTS » Center + (Institute / Coaching Center Software)
Center + is an "Institute / Coaching Center Management Software" which has been built using latest Microsoft .Net Technology.
Center + is specifically developed for Institutes and Coaching Centers who wish to keep maintain records of their Students, Fees, Examination and Certificates and Marksheet. Center + also provides the module of Complete Accounting excluding Inventory. A Center can also maintain the records of Prospectous and Kit's distribution.
Center + has a Unique Feature of Student Enquiry & Followup Reminder, Fees Reminder and SMS to Registered Students.
Premium version of Center + is very useful for those Center's who has Multiple Branches or having a network of Franchise. In this version they can keep maintain the records of their each and every Branch or Franchise as well as their Collection and Royalties.
FEATURES OF CENTER +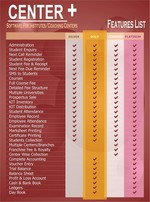 Click on Image to Zoom
Students Enquiry
Students Enquiry Followup and Reminder
Students Records
Multiple Universities/Institutions and their Courses
One Time Course Fee or Semester/Year Wise Fee (With or Without Detailed Fee Structure)
Students Fee Record
Multiple Branches or Franchise
Branch or Franchise wise Records
Student Fee Collection
Branch or Franchise Fee and Royalty Collection
KIT Inventory
Prospectous Sale
Examination Management
Marksheet and Certificates Printing
Complete Accounting
Trial Balance
Balance Sheet
Ledgers
Cash and Bank Book
Voucher Entries
SMS to Students
Fee Reminder
User Management
Student and Employee Attendance